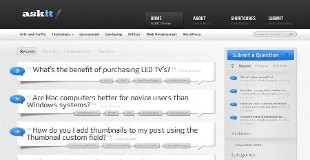 AskIt is a premium WordPress theme that has been designed to help you create an advanced Questions And Answers website using WordPress as your content management system.
AskIt allows your visitors to post their questions to the site and have them answered by fellow members. Any visitor can post answers to the questions which can then be voted on by the community until the "Correct" or best answer is chosen by the question author.
If you are looking to create a Q&A site for profit or make one for your current site/company, Askit can help you set one up quickly and easily. Plus, it includes 7 unique color schemes to choose from.
Theme Features
Seven color schemes to choose from
User sign up and submission form
Automatic thumbnail resizing
Comments voting system
Member rating
Advertisement management
ePanel, extensive theme options
TONS of useful shortcodes
Complete localization for easy translation
Support and updates!
ArtSee WordPress Theme Download Now
Ad Autoindex Php Script Download For Free