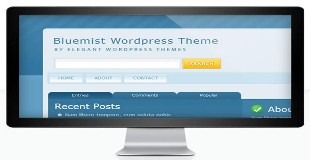 BlueMist WordPress theme has a well-mixed set of colors that appeals to the eyes and makes the site more impressive. Every part of the theme has a blue color with different shades. This set of colors will attract visitors and soothe their souls as the colors fall into the cool range. Visitors will feel so refreshed and interested in your site that they will browse more and explore more on your site.
BlueMist is designed with minimalism and professionalism. There are no extraneous decoration or background images or something that confuses people and distracts them from enjoying a genuine blog. The sleek design of the theme will make your blog stand out from the crowd and make it look cool and professional. Visitor will be impressed at the clean and classy look of your blog site and they will love to visit the site more to read your blog articles and posts.
The content onBlueMist WordPress theme is well taken care of. The template allows you to display many articles at the same time on the interface without making the site look crammed with texts. Actually, visitors will feel naturally encouraged to explore your blogs more and read more. The theme has some functional areas that you can make use of to add functional widgets on your site. You can have a tabbed menu of "recent posts", "random posts" or something. You can create a section for featured posts that will appeal prominently to visitors. You can also build a category table for visitors to choose what they want to read.
Theme Features:
Unparalleled Support
Secure & Valid Codes
Shortcodes
Complete Localization
Perpetual Updates
Browser Compatibility
Theme Options
Page Templates
Askit WordPress Theme Download For F
Max Mag Responsive WordPress Magazine Theme Download For Fre